What will happen to renewable energy growth with the CPP stalled by the Supreme Court? Thanks to tax extenders, The Rhodium Group projects renewables to be the dominant form of new energy development over the next decade – with or without the CPP.
New analysis from the Rhodium Group shows that the combination of record low costs for wind and solar energy and recently extended tax credits have changed the game for Clean Power Plan (CPP) compliance. The extension of the ITC and PTC have made wind and solar generation the cheapest compliance option, whereas before these tax extensions natural gas combined cycle (NGCC) generation was thought to be the cheapest option.
While both the CPP and tax extenders should provide a boost to utility-scale renewables, their impact on the national generation portfolio is much different. Rhodium Group used the Energy Information Administration's Annual Energy Outlook 2015 as a reference case to examine how these policies might impact US power generation.
CPP-only scenario – 60 GW of new renewables by 2025
Extenders-only scenario – 92 GW of new renewables by 2025
CPP and extenders scenario – 142 GW of new renewables by 2025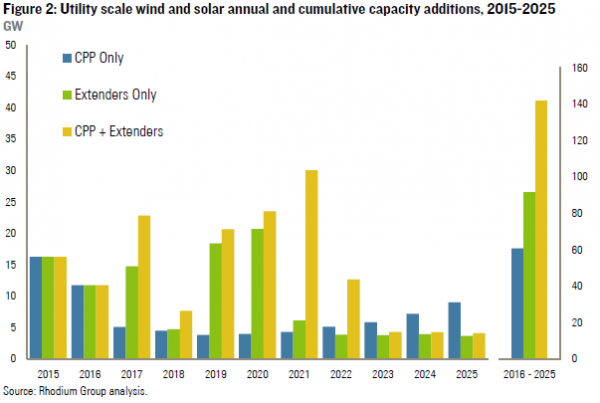 To learn more about the Rhodium Group's findings, click here.
Do you like this post?
---